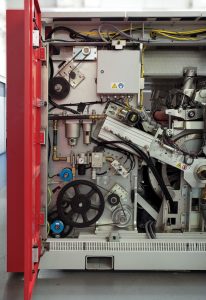 Final assembly plays a key role in our end-to-end contract manufacturing service. It is one of our most important functional areas. Our final assembly manufacturing services specialize in turnkey systems, high-level assemblies, and subassemblies that require difficult-to-produce geometries and close-tolerance designs. We maintain three facilities with over 200,000 sq ft of space that are dedicated to final assembly and have a large repository of state-of-the-art assembly equipment to facilitate nearly any assembly process.
Final assembly and subassembly manufacturing
High-mix low- to medium-volume production
Mechanical, electrical, pneumatic, and hydraulic
Medium to high complexity configurations
Value engineering and design for assembly (DFA)
Supply chain and program management support
Assembling the Most Complex Assemblies
The assemblies manufactured at PEKO typically involve and operate within some of the world's most sophisticated equipment and technologies. Our build-to-print contract assembly supports both consignment and turnkey assembly programs with anticipated annual demand of 10s to 100s of units. When you choose our turnkey services, we can work together to implement a manufacturing agreement that provides you with the greatest possible benefit.
Our vertical integration offers in-house CNC machining, custom sheet metal fabrication, manufacturing engineering, painting, and inspection capabilities to provide final assembly all under one roof. Coupled with our procurement, supply chain management, capacity planning, and program management, our turnkey assembly service helps our customers realize drastic reductions in overhead cost, lead time, and vendors. We produce thousands of complex assemblies for dozens of highly recognized and industry-leading OEMs every year. This success has made us one of the world's best assembly providers.
Final Assembly Preparation: Optimizing Your Build
All our contract assembly customers go through an initial onboarding process to refine, optimize, and ensure the repeatability of their build, regardless of design maturity. During this process, our engineers will review your documentation, including bills of materials, CAD models, and detailed drawings, for any cost-down opportunities, DFMA ideas, supply chain issues, and lead time concerns, and make sure that all processes are well-defined, documented, and verified. This ensures your product is assembled perfectly before leaving our facility.
Flexible Assembly Manufacturing Cells
All mechanical and electro-mechanical assemblies are completed in one of our three state-of-the-art assembly buildings. In these areas, we use lean manufacturing concepts to create customized assembly work cells and establish cost-effective, repeatable assembly processes that are tailored to each program's unique assembly, test, configuration, and packaging requirements. This setup helps our assembly team reproduce your product with perfect accuracy and achieve your cost, quality, and delivery objectives. This, coupled with a robust quality management system ensures efficient, high-quality production. Depending on your individual requirements, these assembly cells can be set up on the production assembly floor or in a highly controlled clean room assembly area.
Competent & Qualified Final Assembly Teams
Each assembly cell is assigned a dedicated program manager and a team of qualified assembly technicians who build your product using the latest techniques that meet or exceed your production expectations. This team works closely with our planning and purchasing teams to ensure individual components arrive on time and within specification. This adaptive planning process has proven to effectively meet our customers' low-to-medium-volume/high-mix requirements while providing them with the flexibility they need from a manufacturing partner.
Specialized Assembly Processes & Services
As a leading contract assembler, we offer a range of specialized assembly services, including electrical assembly, clean room assembly, and prototype assembly.
We are proficient in electrical assembly. Our experienced electromechanical assemblers are capable of assembling and integrating electrical subsystems into a variety of applications, from small projects with a few components to large-scale operations involving many intricate parts.
PEKO maintains over 6,000 square feet of clean room assembly space that operates at class 10,000 ISO 6 or better standards. This service is available on a per-contract basis for customers who require assembly in a controlled environment free of airborne particles during the final phases of their manufacturing process, like those in the semiconductor, medical, and life science industries.
We also offer prototype assembly for new designs and builds as part of our NPI division. Our assembly prototyping services allow us to evaluate product designs and identify potential problems to correct before transitioning an assembly to full-scale production, paving the way for its success.
---
PEKO's final assembly services make for a highly versatile end-to-end contract manufacturing solution for your new machinery, equipment, hardware, and technology. Whatever your technology and requirements may be, we have the capacity, equipment, staff, and processes to handle the job. From simple subsystems to highly-complex electromechanical equipment with hundreds of parts, you can count on PEKO to manufacture, assemble, and deliver your complete, fully-tested assemblies where you need them and when you need them.