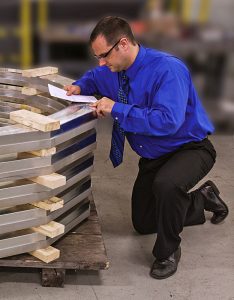 Manufacturing inspection is a critical part of the contract manufacturing process. PEKO's vertically-integrated contract manufacturing services allow its engineering and manufacturing personnel to verify the quality of your product at various stages throughout the production process.
Such streamlined inspection processes are extremely helpful in standardizing quality and increasing efficiencies across the board, in addition to preventing quality problems and supply chain disruptions down the road.
Manufacturing Inspection Equipment
4 Coordinate Measuring Machines (CMM), including

B&S Global Image 9-9-8 (35x35x31)
B&S Xcel 9-15-9 (41x82x35)
B&S DCC Gage (22x30x19)

1 Faro Platinum Measurement Arm (8 ft)
1 Fabrivision Model S Flat Part Measurement and Digitizing Scanner
9 Tesa-Hite Digital Height Gage (stands up to 24″)
65+ Granite Surface Plates (up to 96×48)
Hardness and Surface Testers
Optical Comparators
Electrical (Mark)
Numerous Precision Measuring Equipment
Manufacturing Inspection Capabilities
PEKO is capable of performing a number of critical manufacturing inspection services, including:
Receiving Inspection (also called Incoming Inspection)
First Article Inspection (also known as FAI)
In-Process Inspection (also called Shop Floor Inspection)
Final Inspection
1. Receiving Inspection
The receiving inspection is the act of inspecting and validating the quality of any purchased raw materials, parts and components against on a set of acceptance criteria to ensure that it matches the customer's specified requirements and is compliant with industry standards.
At PEKO, this type of manufacturing inspection takes place during the pre-production phase of the program, and involves:
Verifying the raw materials and their condition
Inspecting planned storage for products
Inspecting production readiness and quality plan
Inspecting the function, size, and measurement
Making the required reliability and safety tests
2. First Article Inspection
The first article inspection (FAI) is the act of comparing a physical sample part with the specifications (usually a detail drawing, or blueprint) against which it was made. This includes all notes on the drawing, dimensions, and any lower level drawings. The sample is usually one of the first parts made from a 1st time setup. Each dimension is measured on the physical part, compared against the print, and a list is constructed defining which dimensions conform or do not conform.
At PEKO, the first article inspection takes place during an initial sampling of a manufactured product to ensure conformity, and involves:
Verifying the product matches the design documents
Verifying the supplier follows the requested process and material specifications
Making technical notes about the nature of manufactured products
3. In-Process Inspection
The in-process inspection is the act of examining workflow on the shop floor to identify areas of improvement in the manufacturing processes. Resources will be evaluated to ensure proper training and environmental factors on the shop floor are also taken into consideration, among other things. The ultimate goal of the in-process inspection is to reduce cycle time, cut down work-in-process (WIP), and increase manufacturing capacity.
At PEKO, this type of manufacturing inspection can take place at any stage of production, and involves:
Verifying the production and quality plan
Inspecting storage conditions
Inspecting packaging, labeling, and barcodes
Conducting reliability and safety tests
Inspecting semi-finished products
Monitoring product during manufacturing processes
Establishing and monitoring process control limits
4. Final Inspection
The final inspection is the act of inspecting the overall finished product once all manufacturing processes have concluded, and is used to determine if the product is ready to be moved to stock or shipped to the customer. Every aspect of the product is measured against engineering requirements, customer requirements, and industry standards for compliance.
Final inspection should serve to validate that all required operations have been completed, all product nonconformance issues have been resolved, and proper traceability and documentation have been recorded. Because of this, it is important that final inspection occurs before approval of the final product.
At PEKO, this type of manufacturing inspection takes place when production is complete, and involves:
Verifying the safety and function of manufactured products
Verifying the order has been produced to the standards set out in the purchase contract
Inspecting the product packing, labeling, and shipping marks
Inspecting appearance to established standards
Perform sample size inspection on key or critical characteristics
Reviewing shipment and quality documentation for completeness and accuracy
---
Contact us today to find out how we can help you meet or exceed the demanding requirements of your new equipment, machinery, or instrumentation, with our comprehensive contract manufacturing and inspection services.