Program management is one of our strongest attributes at PEKO. Our program managers work closely with you to ensure all aspects of your project are addressed and expectations are exceeded. Their ultimate purpose is to successfully lead your program through the entire product manufacturing cycle, from initial prototyping and low-volume builds to full-scale production.
By working with our program management team, you will:
Have a single point of contact for all communication
Bridge the gap between your technical team and ours
Get extremely fast and accurate responses
Remove the headaches of tracking down products or making changes
Get personalized service from an expert you can trust
Define success and have a PEKO manufacturing expert achieve it
The Role of Program Management in Industrial Contract Manufacturing
Success Begins with Program Management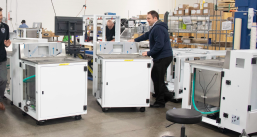 Contract manufacturing programs often involve intricate engineering and manufacturing requirements, extensive supply chains, and specialized quality systems that take foresight and expertise to fully manage. It's because of all these moving parts that program management plays such a critical role in the success of a contract manufacturing program. Through their strategic thinking and managerial skills, they bring together all of the essential functions in a contract manufacturing organization, ensuring that each and every department works harmoniously towards achieving a smooth and efficient manufacturing operation.
When you partner with PEKO, your program manager becomes a virtual extension of your team from within our facility, helping bridge the gap between your team's technical expertise and ours and makes it easy to oversee all manufacturing operations relating to your program. Our program management teams have extensive experience in different roles from across all areas of our organization, giving them a unique perspective into how services should be efficiently administered across departments.
They are responsible for leading your program through the entire manufacturing process, from overseeing your program's key metrics (cost, quality, and delivery) to managing individual specifications and requirements inherent to your program. They'll work closely with you to coordinate things like ordering and scheduling, keep you updated on project status, and handle questions you have during your product manufacturing lifecycle.
Common Processes & Tools We Employ
We employ several tools to manage this role, including, but not limited to, Microsoft Project scheduling, Syteline MRP, and Assembly Work Instructions.
Syteline MRP: Used to track cost info, including labor and material expenditures.
Gantt Charts: Used to track program timing.
IOC Process: Used to break down and review specifications to identify all critical parameters (inputs and outputs) of the project. These parameters provide the team with full visibility of the key items for success.
Furthermore, we have created several custom reports to update our clients with production status, shipment status, program and project development timelines, and design reviews.
How You Benefit from PEKO's Program Management
1. Communicate Through A Single Point of Contact
Communication is essential when handling the management of your program to its completion, and our program managers are the ideal liaison between your organization and ours. When you partner with us, we provide you with a dedicated program manager during onboarding that will serve as a single point of contact for all things quality, purchasing, and manufacturing throughout the duration of your project. This program management approach ensures visibility and accountability at all levels within our organization and allows for simple and easy communication.
2. Competent Teams to Address Your Specific Needs
Our program management staff have a deep understanding of the technical underpinnings of complex electromechanical equipment and industrial machinery. No matter if it's a simple assembly or a complex integration with custom and purchased components, your program manager will work with you to understand the full scope of work for your product and build a customized program to ensure the success of even the most technically complex builds. They also work alongside PEKO's upper management team to assess the appropriate internal, or potential external, resources needed to meet customer demand and determine at what points these resources need to be allocated, making adjustments to capacity where needed. This type of collaboration results in a competent program team and an appropriate project timeline. Our world-class quality management systems enable program teams to be assigned by function and the type of industry being served. This allows for the utilization of specific team members with the knowledge and expertise unique to industry-specific requirements.
3. Holistic Project Management from the Top Down
Our program managers participate in senior management reviews, which are available on a daily, weekly, and monthly basis. PEKO maintains the following meeting schedule to ensure that each program receives the proper visibility and priority level and to address any issues or concerns that may arise throughout the life of the program.
Daily – Upper management morning meeting including CEO, CFO, VPs, Op Managers
Weekly – Project managers meeting with supervisor VP
Monthly – Program manager meeting with entire PM staff and all upper management
Each program is reviewed at least once per month and measured to drive success through planning and design. If any problems arise over the course of the program, our escalation plan establishes how significant problems and decisions should be addressed to keep the program on track, which provides clear visibility for both organizations.
---
PEKO's program management support services are second-to-none. Like hundreds of programs in the past, our program managers will help guide you through the challenging environment of contract manufacturing and set your program on the path to success. From minor sub-assemblies to complete products, our program managers stand ready to support your manufacturing needs at any stage of the product lifecycle. Contact us today to learn more.