Bringing Complex Systems Together
Let PEKO help you realize the power of partnering with a turnkey systems integrator.
Complex systems integration is one of the most critical capabilities of our robust manufacturing process. Our teams are extremely qualified to provide top-level systems integration for a range of specialized machinery applications and for a diverse set of industries and clients.
We're involved in many aspects of integration, including mechanical assemblies, electronic systems, and software programming. Our extensive knowledge and resources within this area are what enable us to provide turnkey integrated solutions on time and within budget – all while ensuring that customer and industry requirements are met with top-notch quality.
Systems integration support for large, complex machinery and electromechanical systems.
Decades of in-house experience in mechanical assemblies, electronic systems, and software programming aspects.
Complete BOM management and process control, including sourcing and procurement.
Expertise in an assortment of 3rd party automation and control technologies and components.
NPI engineering support for build-to-print and build-to-specification programs.
Single-source accountability for the entire manufacturing process of finished products, including factory acceptance testing (FAT).
The Challenge of Building Complete, Functioning Systems
The large and technologically complex products we build consist of many different systems, subsystems, subassemblies, and components. It's during the systems integration process that these individual pieces are combined into a more sophisticated whole. Smooth connections between these interdependent pieces are critical so they can interact with one another to form a fully functioning and cohesive unit that properly addresses critical parameters and controls system operation and performance in a repeatable manner. Getting this right is a complicated and demanding process. Outsourcing to a turnkey systems integrator like PEKO might just be the answer to the successful implementation of your complex system.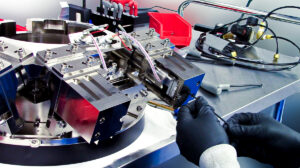 Outsourcing to a Turnkey Systems Integrator
At PEKO, we are experts in complex systems integration, configuration, calibration, qualification, and verification. These services are enhanced by our on-site product development engineering, procurement, machining, welding, fabrication, assembly, programming, testing, and program management. These vertically integrated capabilities set us apart from the rest by empowering us to deliver systems that are fabricated, assembled, wired, powered, programmed, and tested all under one roof. Partnering with us gives OEMs the benefit of collaborating with a single source partner who is competent to manage the entire project lifecycle, from in-house manufacturing and assembly, to supply chain management and sourcing of necessary components. It also reassures our customers that all systems are properly connected and functioning as intended prior to leaving our facility.
Complex Systems Integration: Best-in-Class Services & Solutions
As a turnkey systems integrator, we have a team of highly skilled technicians who have a thorough understanding of the capabilities and optimal methods for successful integration. With the support of our engineers and project managers, this team provides complete BOM management, including sourcing and procurement, and process control to support the most complex systems integration projects involving hundreds of combined subsystems and components.
PEKO's Turnkey Systems Integration Process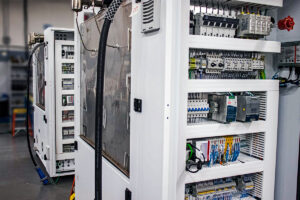 Our integration process involves a complicated series of steps that systematically integrate lower-level systems into higher-level systems. Complete systems are integrated from the bottom up, usually in incremental stages, with all subassemblies and modules being optimized and tested for their specific functions before being integrated into the next higher assembly.
This intricate and iterative process is catered to each individual customer's project with the goal of building a finished system that functions as intended and is ready to be shipped. These activities all take place within our vast assembly facilities, which amount to over 200,000 square feet.
But it takes more than just assembly space—our integration processes are further enhanced by our 30,000 square feet barcoded warehouse, dedicated tooling and fabrication departments, Class 1000 (ISO 6) clean room assembly areas, manufacturing inspection, and robust quality management systems (QMS).
Expertise in Machine Hardware, Software, Automation & Controls Technology
In addition to the mechanical assemblies and components that we fabricate and integrate in-house, we also integrate 3rd party electronics, pneumatics, robotics, and electromechanical systems that are specified in your build. Our electricians and controls technicians are highly skilled at working with a wide range of machinery hardware, software, automation, and control systems and components. Examples include…
Motors, Encoders & Gearboxes
Drives & Motion Control Systems
Controllers & I/O Modules (including PLC integration)
Operator Interfaces & Monitors (including HMI integration)
Pneumatic, Vacuum & Hydraulic Systems
Instrumentation, Sensors & Actuators
Robotics & Automated Systems
Production/Operations PC Software (including SCADA programming)
Process Management Systems
Industrial Communication Networks
Machine Hardware & Electrical Components
Safety Control Components
Comprehensive Systems Engineering, Prototyping, & Programming Support
When needed, we provide NPI engineering support for built-to-print programs. Our engineers are available on-site to provide technical assistance to customers who need help designing and integrating the appropriate technologies and components into their systems. Our proficiency in an assortment of specialized engineering disciplines gives us a high level of control over mechanical, electrical, and control aspects of complex systems integration projects. We provide support with mechanical solid modeling, print detailing, DFM, FEA, and FMEA initiatives. Our control engineers are also well-versed in a variety of programming software, including C#, Python, VB.Net, and more. What's more, we even help with iterative prototyping and low-volume production when a system needs to be refined and optimized prior to scaling. Coupled with our vast fabrication and assembly expertise, we are able to tackle the most diverse and challenging applications to develop integrated solutions that provide customers with the highest level of confidence and performance for their entire project.
Superior Regulatory Compliance, IP Protection, Testing, & Quality Assurance
PEKO follows a "quality at the source" philosophy by designing-in quality through testing and measurement in many areas of our operation. Our QMS is set up to satisfy ISO 9001, ISO 13485, and AS 9100 requirements and comply with a wide variety of customer and regulatory standards, like UL, CSE, CE, ANSI, and others. With a steady stream of QMS audits from customers and 3rd parties, we are always improving. What's more, our experience with high-stake projects in competitive markets has armed us with the expertise to diligently protect your proprietary concepts, technology, and processes. We perform factory acceptance testing, or FAT, for our clients at many different levels. All testing and acceptance are performed per a documented procedure developed early on in collaboration with our customers to ensure the quality of each product that ships meets customer expectations. We also design and construct test fixtures and systems to perform test requirements.
---
Do you have a sophisticated industrial system consisting of extensive subsystems and parts? Do you lack the internal resources to tackle the intricacies of controls integration, automation, programming, and debugging? Do you need your team focused on your IP and core science? Look no further than PEKO!
When your system is complex and involves many interconnected systems and components, you can count on PEKO to provide a customized solution for your business and get it done right. From start to finish, we are your one-stop source for complex systems integration. Our capabilities can support your long-term program needs from prototype to production. Come realize the benefit of a true partnership that satisfies your complete, end-to-end integration needs – contact us to discuss your system requirements today!
---