About PEKO Precision Products
PEKO Precision Products was founded and incorporated in 1966 as a precision tool fabricator by our three founders. Over time, PEKO has grown into a vertically integrated, full-service contract manufacturer for technology development and product commercialization.
Our location in Rochester, NY, places us in one of the world's top technology and manufacturing development regions. We currently operate in over 375,000 square feet of air-conditioned space between our nine state-of-the-art facilities, all located within a one-mile radius of one another.

Our dedicated staff includes approximately 400 devoted non-union employees. Our aim is to be the top contract manufacturing company in the USA.
Our Mission
To develop tomorrow's technology with industry leaders and progressive partners to profitably manufacture today's products in a global economy.
Our Vision
To be the most trusted contract manufacturing partner for industry leaders.
Industry Awards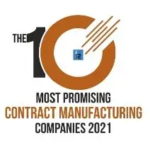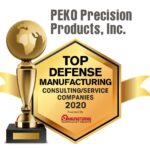 Why Choose PEKO?
Debt-Free Advantage
As a debt-free company running a three-shift operation, we have the advantage of purchasing space, machinery, tools, and additional staff at a moment's notice and the flexibility to meet all our customer demands without fearing any potential encumbrances that can arise within the manufacturing industry. This has proven beneficial in the world of manufacturing as we bring new customers under our wing and allow current customers to ramp up their projects at a moment's notice.
PEKO also internally employs technology to construct state-of-the-art contract manufacturing services for our top-level programs, which include capital equipment. This internal process consists of continually monitoring available construction and design techniques and conducting competitive bench-marking efforts to maintain our world-class standing in electromechanical contract manufacturing capabilities.
Dedicated Employee Base
At PEKO, we constantly invest and re-invest in the success of our employees and their futures, and are certain that we have brought together some of the most trained and best minds in the industry. And our philosophy for our employees' transposes into the relationships that we have with our customers as well.
The vast majority of our customer base functions as a "partnership" relationship through the product development and contract manufacturing stages as we engage in long-term commitments, building a foundation of trust and confidence with each one.
Core Competencies & Expertise
Contract Manufacturing & New Product Introduction
PEKO provides a full range of equipment manufacturing solutions including vertically integrated electromechanical contract manufacturing. PEKO can provide a range of manufacturing services, including systems integration and turnkey assemblies. Our expansive and modern climate-controlled manufacturing space encompasses over 375,000 square feet.
Our entire PEKO team including our creative engineering and skilled trade personnel is ready to collaborate on productive solutions while continually investing in progressive industrial and technology tools and equipment. See our facilities list for a comprehensive depiction of our equipment and capabilities.
---
Rochester's economy provides 17% of its employment through manufacturing and employs nearly twice as many scientists and engineers as the average American city, providing a large base of intellectual capital and resources to utilize.
Come—visit our expansive campus. Let us show you how we manage successful business partnerships in today's fast-paced global marketplace through a commitment to technology, innovation, and most of all, our customers! See our facilities list for a comprehensive depiction of our equipment and capabilities.
Our Proposal Process    Quality Management Systems