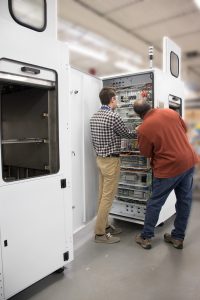 To manufacture the highly specialized and complex equipment that we engage with, our contract assembly and quality control technicians must take a more customized approach, requiring a far more specialized skill set. Because of this, PEKO naturally places a great deal of emphasis on technician training.
We track our qualified technicians through a competency matrix to ensure proper skill sets are achieved and maintained. We consider our extensive technician training program to be a key area of expertise, allowing our customers to rest assured knowing that their project is in qualified hands.
The Importance of Technician Training
Technician training for those who build and inspect new equipment and machinery is essential to the manufacturing of quality products. Maintaining a comprehensive training program ensures that technicians are properly educated on how to operate specialized machinery in a highly specific product manufacturing and testing environment. It also allows us to continuously improve product quality and outputs, broaden our services, and improve organizational performance by matching each program with a proficient technical team that is equipped with the proper skill set.
What's Involved In Technician Training?
Our technician training program includes training in foundational skills like blueprint reading, gauge design, geometric dimensioning and tolerance (GD&T), quality measuring techniques, inspection technology (i.e., CMM), and safety procedures. Additionally, each technician has also been trained in their respective program-specific manufacturing techniques and operations. These measures lead to a higher level of quality control that results in more consistent and elevated product quality.
PEKO's Employee Competency Matrix
Beyond our formal technician training program, we also maintain an employee competency matrix that is updated on a quarterly basis and is used whenever we must add a technician to an existing assembly cell/program or assign a team to an entirely new program.
When they're first assigned to a new program, our assembly technicians are teamed up with an "assembly expert" who has proven expertise in that particular build or type of build. They will provide instructions on the proper assembly techniques and serve as a mentor to the trainee moving forward.
Over time, we will monitor the progress of the trainee through continuous review of completed builds until the trainee has proved their ability. This will then be updated in the employee competency matrix so that we know where each technician stands. PEKO's technicians are also cross-trained in different programs to aid in operational flexibility.
Request a quote to learn more about how PEKO can help you bring your new technology to market.