A production readiness review (PRR) is a critical step in the commercialization process. This step takes place when a project is expected to be ready to transition into PEKO's production environment and processes. This review is a comprehensive examination by the project team and program manager of the design documentation, manufacturing processes, and functional specifications that have been completed for the product.
The PRR typically occurs when a) a project has been completed by PEKO's NPI team and is scaling to larger, steady-state volume production, or when b) PEKO accepts an order to build a product that's already established. The PRR helps to mitigate certain risks associated with new production builds by determining:
If the product design is mature and ready to transition to production, from the standpoint of completeness and manufacturability.
If production planning (i.e., facilities, tooling and test equipment capacity, personnel development and certification, process documentation, inventory management, supplier management, etc.) was adequate.
PEKO has a team of qualified experts that will perform the PRR with a particular focus on engineering and manufacturability in order to lay the groundwork for successful production builds.
Purpose of Production Readiness Review
The purpose of the production readiness review is to determine if the information provided by our customer or developed internally within PEKO will support the consistent and reliable production of a product that is both manufacturable and can meet its intended design and function. There are likely changes and revisions that occurred during the first build that can be addressed during the review and implemented to save time and money before production manufacturing takes place. Quality objectives are also verified during the review, including a completed factory acceptance testing (FAT) process and documentation.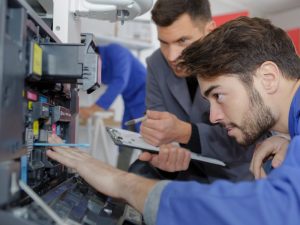 The production readiness review also allows PEKO to assess the need for additional resources necessary to complete the build, including items such as custom equipment and properly trained personnel. With our competent, cross-trained team of technicians, resources can be deployed as demand increases or decreases.
We maintain an employee competency matrix to ensure that proper skill sets are achieved and maintained and that the right resources are allocated. Beyond personnel, we have an enormous capacity including over 350,000 sq. ft. of manufacturing space and 120+ machining centers across eight buildings to support your product's manufacturing and production needs.
What's Examined During the Review Process?
Mechanical print packages
Electrical schematics and layouts
BOM accuracy and completeness
Work instruction development and review
Production planning documentation
Existing and planned facilities
Tooling, fixtures, and test equipment
Manufacturing methods and controls
Assembly sequence and workflows
Takt time and delivery rates
Quality control and assurance provisions and documentation
What Are the Production Readiness Levels?
Technology Readiness Level (TRL) & Manufacturing Readiness Level (MRL) are two generally recognized methods to assess your technology and product for production readiness. These scales typically provide milestones and targeted accomplishments to determine "readiness" level with a rating from 1 to 10. PEKO partners across many industries and corporation sizes, including defense, medical, and early-stage innovators use these guidelines. There are many variations of TRL and MRL scales, which all follow a very similar sequence of assessments.
It is important to note that a particular TRL will often serve as a prerequisite to advance to the next MRL. Your technology will have reached the final level of TRL before it advances into the final two levels of MRL: low-rate initial production and full-rate production.
Low-Rate Initial Production (LRIP) is the second-to-last MRL level. At this point in time, manufacturing development has been completed and your technology has reached maturity. The process of LRIP assures adequate manufacturing capability, creates a base production line, provides production articles for operational testing, and begins an orderly ramp-up to full-rate production. It is intended to result in adequate and efficient manufacturing capacity. Before making the FRP decision, a manufacturing readiness and technology readiness assessment should be conducted. This'll ensure that no outstanding risks will affect the programs' ability to deliver the FRP requirements.
Full-Rate Production (FRP) is the highest level of production readiness on the MRL scale. Once transitioned to FRP, engineering and design changes are generally limited to quality and cost improvements, and engineering, performance, quality, and reliability requirements have all been met. At this point, the manufacturing process is under control, lean production practices are in place, and there should be no significant manufacturing risks remaining.