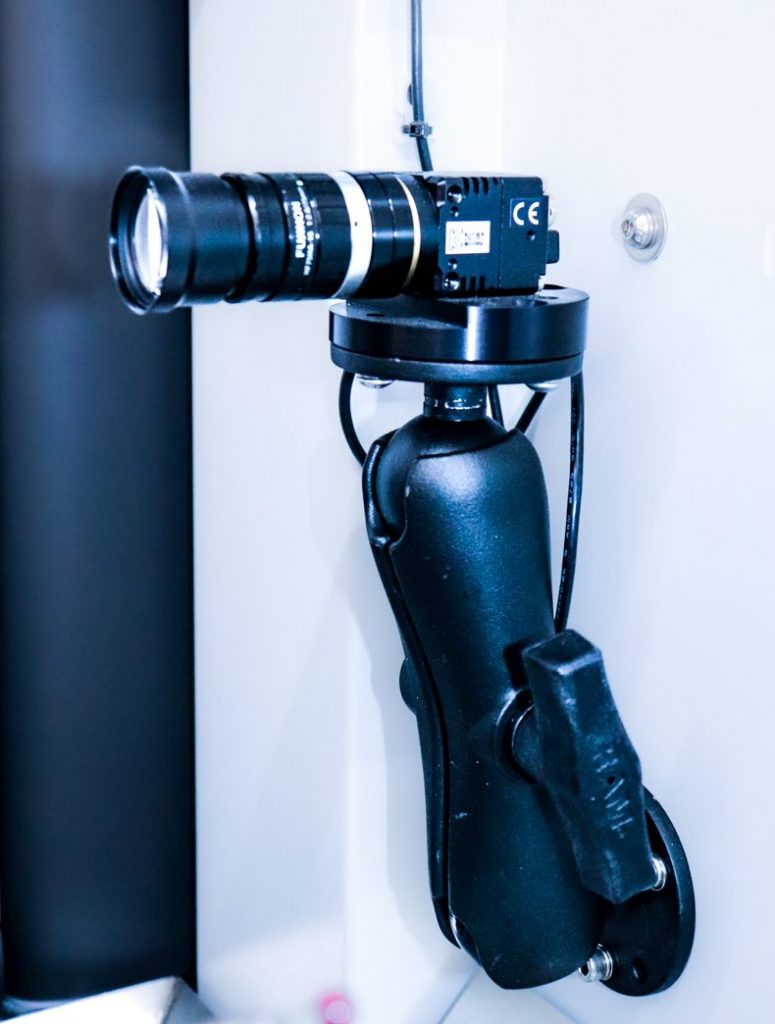 Many of the machines we build here at PEKO are integrated with machine vision systems. This extensive experience in systems engineering has morphed into a knowledge base of process control, automated inspection, and robotic guidance for these systems.
As an experienced machine vision system integrator, PEKO can help you determine which vision system is most appropriate to integrate into your application or build your machinery with the vision system you've already specified. Our controls engineering and electrical assembly teams handle these vision systems for a variety of industries and applications.
What Is Machine Vision?
Machine vision is the automatic extraction of information from digital images. The image is captured by a camera and is then processed into usable data for real-world applications. The purpose of these systems is to provide guidance to help machine devices execute their functions.
Benefits
When compared to human intervention and manual processes, machine vision is much faster, more consistent, works for longer periods of time, saves money, reduces defects, increases yields, and improves tracking and regulatory compliance.
Challenges
Machine vision systems can often encounter problems when used on applications with shiny or reflective parts, high speeds, camera mobility, and embedded vision. At PEKO, our engineering team helps with troubleshooting and can be a great asset if you experience any of these common machine vision challenges.
How Do Vision Systems Work?
Machine vision systems comprise of five key parts for proper operation. These five distinct parts work together to perform the vision system that enables the process.
Lighting is used to illuminate the part so the camera can see its features. It gives high contrast to the part so that the features under scrutiny are very clearly visible.
The lens, whether fixed or interchangeable, will capture the image. Different lenses can capture dramatically different images. The image from the lens is then delivered as light to the sensor inside the camera.
The sensor captures the light and converts it to a digital image. A sensor with a higher resolution will capture images that will appear in more detail. This will improve inspection accuracy.
Vision processing is then used to review the image, extract information from it, and run applications. This is when the system performs software functions like locating, counting, measuring, and decoding. It can happen internally on the camera or on a separate PC.
Lastly, communication, the output of the vision processing step, is then sent out to other components via discrete I/O or over a serial connection to things like a PLC, solenoid, or even an HMI screen.
Most Common Use Cases for Vision Systems
Measurement (automated measurement by a machine to check for specified tolerances)
Counting (checking for the number of parts or features on parts)
Position (checking for location and orientation of a part)
Decoding (reading and recording 1d and 2d symbols like barcodes and QR codes to track parts)
Popular Machine Vision Systems Used at PEKO
At PEKO, a wide range of machine vision systems can be integrated into your machinery.
Some of the most popular are:

Omron
Banner Engineering
Cognex
Basler
Teledyne DASLA
---
If you're looking for a machine-building expert with the ability to integrate vision systems into your machine, call PEKO today. We have extensive experience integrating machine vision systems into machines of all types and can provide recommendations and troubleshooting based on your specific needs.