Industrial machinery is incredibly complex, and ensuring that all moving parts, like motion control systems, are working in sync is critical. Unfortunately, these systems can be difficult to configure and integrate properly. PEKO is here to help with your motion control systems integration needs.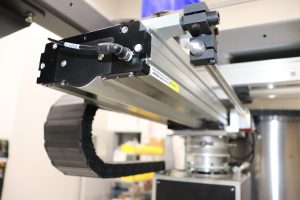 Whether you have already spec'd out the system or need some help deciding on the components, our motion control experts will provide you with the guidance and support you need to choose the perfect motion control system for your machine. Our electrical engineering team will create processes to properly integrate the system into your machinery and equipment.
Motion Control Systems for Industrial Machinery
Motion control systems operate by using feedback sensors and linear actuators to permit precise movement and accuracy. They present a multitude of benefits for applications in a wide range of industries:
They allow safer work environments by reducing human involvement and exposure to potentially dangerous situations.
They enable automation for real-time monitoring and quick detection of issues.
Key System Components
There are three main components in motion control systems: the controller, the drive, and the motor. The controller is the brain of the system. It sends electrical signals telling the drive what to do. The drive takes these signals and converts them into motion while the motor translates that motion into work.


Common Applications
Motion Control Systems Integration at PEKO
Motion control systems are important to consider when designing and manufacturing machinery. When configured or installed incorrectly, they can lead to decreased efficiency or even failure.
PEKO has decades of experience installing, configuring, testing, and troubleshooting motion control systems and the expertise to provide you with motion control systems integration services that will ensure your machinery is running smoothly.
We support motion control systems integration in prototype, pilot, and production scale builds.
Configuring Your Motion Control System
Factors We Consider
When selecting a motion control system for your equipment, our electrical engineers take several factors into consideration:
The type of motion required (linear or rotary)
The power requirements of the system
The speed and acceleration requirements
The environmental conditions (temperature, humidity, etc.)
Whether a closed-loop or open-loop system is needed. In a closed-loop system, feedback from sensors is used to correct errors and achieve more accurate movement. In an open-loop system, feedback from sensors is used to track performance, but not to correct errors.
Motion Control Brands We Use
PEKO works with a range of major motion control systems manufacturers.
Motion Controllers – Galil, Trio
Servo Drives – Kollmorgen, Allen Bradley Kinetix
Servo Motors – Kollmorgen, Parker
Feedback sensors – Kollmorgen, Parker Resolver, Newall Encoder
By pulling on our years of experience with these OEM providers, we can help you with your motion control systems integration needs.
---
Looking to outfit your industrial machinery with a reliable motion control system? Look no further than PEKO. We can provide you with motion control systems integration services that are tailored to your specific needs. Contact us today to get started!