Ideas are at the heart of innovation. They can exist anywhere, even on the back of a napkin. But for many businesses, it can be challenging to translate the concept for an invention into an actual product. That's where developing a functioning prototype comes in.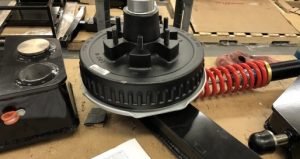 A prototype is an early-stage product that's produced in its most basic form. It's primarily used to test your concept and isn't necessarily intended for a long shelf-life. In fact, prototypes are often much simpler versions of your end product, so it's important to not get hung up on perfection in the early stages. Future iterations can be optimized to meet the standards required by your users through their feedback.
The key to developing a useful prototype is working through the stages so you can get your product to market as quickly as possible. But what exactly does that involve?
The 3 Stages of Prototyping
There are generally three stages involved in the prototype lifecycle.
Proof-of-Concept: This is really the "will this work?" point. In this stage, you'll create a physical mock-up or model to test the feasibility of your design. While the terms 'proof-of-concept' and 'prototype' are frequently used interchangeably, they're not the same thing. Specifically, a proof-of-concept iteration is only intended to evaluate a specific concept or sometimes how your idea can be integrated into other systems. Critical parameters can be defined and refined.  It won't necessarily have all the functionality of the end product. Therefore, when it comes to actual usability in the real world, that's beyond the scope of this phase. 
Alpha/Beta: When it comes to prototyping, usually you'll create both Alpha and Beta versions. An Alpha prototype is the first attempt at fabricating your product. It may not be quite finished and will likely have some flaws, but it's generally used for internal testing purposes and serves as the basis for making future changes. Once it's pretty functional, you'll move on to a Beta. A Beta prototype is closer to the final product and should be able to perform in the real world. Generally, Beta prototypes are tested by potential customers or other members of the public. 
Pilot Build: In this phase, you'll take all the refinements from the Beta to create a prototype that's used to test the quality of the manufacturing process and go through any required certifications. This prototype is technically the start of mass production and takes place in the same factory where you'll make the final product. Once you've completed your final testing of the pilot build, your product is ready to be sold commercially. Typically, however, you'll identify a group of early users who agree to use the product and provide reviews first.
The Benefits of Developing a Prototype
As you're trying to understand how to get an idea made into a prototype, you may be wondering why this step is so important. There are several advantages to developing a prototype:
It allows you to refine your ideas.

Many times, you won't realize potential flaws with a product concept until you start to physically create it. Or you may think of new features you want to add. Either way, a prototype lets you work out the kinks to optimize your final product.

You can test different materials.

You may find that different materials work better for your design or cost less. A prototype gives you the flexibility to try different methods until you settle on the best approach.

You can define critical parameters:

  Here you can determine the functional variables that control the physics of the product.

You'll have something to show stakeholders.

Taking your idea from paper to production can make it easier to explain your product lifecycle to interested parties like a patent attorney, business partners, or investors.

It can reduce your costs.

Going through the manufacturing process early allows you to uncover and potentially reduce unnecessary steps, setups, and material changes before you go to full production to lower your expenses once you launch the product. 

It can improve customer satisfaction. By working through potential design problems in advance and soliciting customer feedback during the prototyping lifecycle, you'll be able to enhance the quality of your final product and better meet market expectations.
Can You Develop A Prototype Yourself?
Anyone can create a prototype. But if you're an early-stage business with few employees, you may not have the knowledge, tools, or machinery in-house to develop your prototype yourself. In these cases, when evaluating how to get an idea made into a prototype, you may decide to opt to outsource prototyping to a prototype contract manufacturer.
These firms will typically have a development team staffed with engineers who have the expertise to evaluate your original idea and the resources to get accurate and functional prototypes and testing completed as quickly as possible. Depending on where you are in the prototype process, they can assist you in any stage to help you realize a faster development cycle. 
If you choose to outsource prototyping, there may be several costs involved:
Engineering labor

Commercial off-the-shelf items

Customized manufactured components

Assembly labor

Test labor
To give you a sense of what you could expect to pay, for engineering labor like machinery and component design, test design, CAD modeling, print creation, and documentation, you should expect to see costs of about $70 to $80 an hour at the low end, while a specialized engineering firm will be closer to $175 to $200 an hour. For assembly, typical rates in the US range from $50 to $150 an hour on most non-specialty machinery.
What's Next?
Once you've brought your idea to life by building a physical prototype, the next step is volume production for delivery to the supply chain and to the final end-user.
This manufacturing stage of product introduction can be filled with delays, distractions, and unexpected fires to put out so it's wise to do your research and find a manufacturer or New Product Introduction (NPI) company that can help you predict these problems and mitigate them ahead of time. 
Questions on the prototype development process? Contact our prototype engineers today!