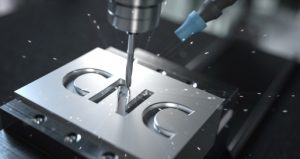 If you're like many companies looking for precision and accuracy in production, you may be considering a contract manufacturer that can fabricate parts for your equipment or machinery with in-house CNC services. According to Interesting Engineering, CNC (Computer Numerical Control) machining is a process of using a computer to control, automate, and monitor the movements of a machine to manufacture parts from stock materials. CNC machining was created to bypass the limitations of manual machining.
There is a wide range of CNC machining services available, but the ones available to you all depend on the contract manufacturer that you select to outsource your fabrication to. Here, we'll address some of the most common CNC services that contract manufacturers provide. You can use this list to identify a partner who has the capabilities to meet your needs.
1. Machining
Depending on your part's needs, you may require specific CNC machines for the best final product. There are various options that contract manufacturers use, including lathes, mills, drillers, routers, and grinders. Plus, other fabricated components can be used within a CNC system for greater versatility, including turret punchers, wire-bending machines, and more.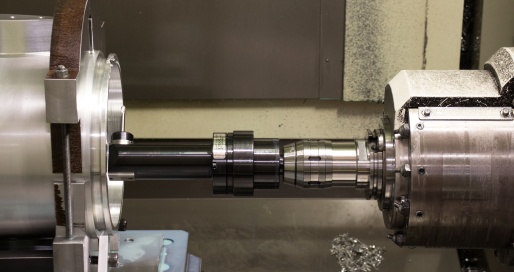 As you evaluate contract manufacturers, you'll want to find out about what machines they have and if they can provide the complete range of fabrication methods to produce your part. For example, if you have a large part, does the vendor have the ability to produce tight tolerances on products with your dimensions?
2. Prototyping
Many contract manufacturers have access to CNC machines that will accommodate the fabrication of prototypes and experimentation items. If you're in the process of conceptualizing or launching a new product, you may want to take advantage of these CNC prototyping services.
With the fast turnaround time of CNC machines, you'll be able to get a fully-functioning working model as soon as realistically possible. The result is a prototype that will simulate the final product (more than 3D printing is capable of) while still leaving you room to make improvements and other changes.
3. Engineering
When you plan to use a contract manufacturer for their CNC machining services, you'll want to find out if they have engineers on staff who can take full advantage of the machines by following design-for-manufacturing (DFM) rules.
Since there are some design restrictions when it comes to CNC machines, you'll want a partner that has experts that can help you refine your initial concept and define critical parameters. For example, you'll want to be careful with the depth of any cavity or pocket. An in-house team of engineers will be able to help you identify solutions to develop and finalize your designs.
4. Quality Inspections
When you team with a contract manufacturer for CNC machining services, you'll want to make sure they have a intuitive quality control system in place to make sure the final product meets both your needs and any regulatory requirements for your industry. For example, you should ask if the manufacturer has industry certifications like ISO 9001, ISO 13485, and AS9100. Furthermore, you'll want to find out about their quality performance metrics and how that data is used to ensure customer satisfaction and success. You may even want to inquire about their investment in continuous improvement to ensure world-class standards are achieved across all programs.
5. Project Management
If you choose to outsource production to a contract manufacturer, you'll want visibility into the manufacturing process as well as accountability at all levels within the organization. While each contract manufacturer may take a different approach to project management, it's a good idea to find out how the one you chose will manage your program. For example, will you have a single point of contact throughout the duration of the program who will help determine appropriate internal or potential external resources? A holistic approach like this led by dedicated personnel may give you the confidence you need to take your program to completion with a third party.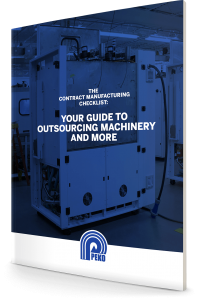 By finding a contract manufacture that offers the full scope of CNC services you need, you'll be able to take advantage of outsourcing your products or assemblies so that you can re-focus your efforts on the aspects of your business that you are best at.
"PEKO specializes in manufacturing highly complex parts. By amassing a collection of over 100 CNC machines and highly talented personnel, PEKO is the choice for hard-to-make parts" say Scott Baxter, Business Development Manager at PEKO.
Looking for a contract manufacturer that can leverage in-house CNC machining for your next project? Download our checklist to find the ideal contract manufacturing partner for you.