Share article: FacebookLinkedinTwitter
Product Type: Quality, Inspection Equipment
Manufacturer: Hexagon Manufacturing Intelligence
Model: Leica Absolute Tracker AT402
Where to buy: Contact Hexagon Sales
Overall Rating:  5/5 stars
Introduction: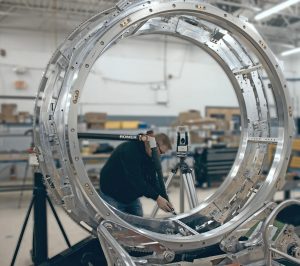 Hexagon Manufacturing Intelligence manufacturers a line of metrology hardware and software solutions that capture quality data for measurement, positioning and inspection.  Engineers and Quality engineers that have to measure datum structures and other CNC machined features  on parts, assemblies and weldments over large spans can look to the Leica Absolute Tracker to solve exactly this problem.  Our Quality team researched many options for this type of inspection over a period of months and finally settled on the AT402.  Defense, Medical and Communications are just some of the industries that utilize a product like this.  This report gives our impressions of the product and judges whether it lived up to it's claims.  (Spoiler alert, it did.)
How did PEKO come about using this product?
We have an excellent relationship with Hexagon that has spanned many years and as such we always consider Hexagon when the need arises to expand our capabilities.  In terms of our recent acquisition of the Laser Tracker (and TooLOK system), there was an immediate need to check very large, feature-dense machined items with rather tight tolerances.  The integration of a laser tracker and measurement arm was the apparent solution for the sake of overcoming item size, accuracy, and line of sight challenges.  After considering various offerings from Hexagon and its competitors, Hexagon emerged as the winner for a number of reasons including the history of effective training and support, the fact that the tracker would integrate nicely with the measurement arms we already possessed, the universality of the PC-DMIS software platform between devices, and the innovative nature of the TooLOK system that was ideally suited for our application
What are some benefits we have seen?
Excellent precision, meets advertised accuracy
Very large parts capabilities
Portable
Maneuverable
Fast measuring
Versatile, can measure just about anything with the right accessories and setup
East to acquire accessories available
What are some shortfalls of this equipment?
Learning curve
Operators need a steady hand
Price vs value
Like most inspection equipment, this is not inexpensive. However, when asked, our Quality engineers stated "it's worth every penny", due to the immense capabilities of size and range.
How did it work and how was the usability?
The training provided was effective and tailored to our specific needs.  We were measuring in days with the occasional call to tech support.  The option to use a single software platform (PC-DMIS) for all of our devices really helps with the rate of integration of new technology into our process.  Users note that after the learning curve is overcome, the product works excellent and has made large inspection work much easier.  An added bonus is that the TooLOK feature integrates data with other inspection devices to give increased functionality.
What were some alternatives we could have pursued?
Other manufacturers have similar laser devices.  Upon a rigorous head to head comparison, PEKO chose Leica as the preferred product.
Rating
5/5
Conclusion
The Leica Absolute Tracker AT402 has been an enormous benefit to PEKO and could be a benefit for any company with difficult inspection requirements over large spans.  The Quality here at PEKO has fawned over this product in our months of use.  Currently, we are currently inspecting tight tolerance parts and even mechanical assemblies that otherwise would not be able to be inspected.  This capability has impressed our customers and opened us to new work and new revenue.  Overall an excellent product and a great addition to our inspection equipment fleet.