If you're an alternative energy equipment manufacturer, odds are that you'll need to contract steel fabrication services in order to manufacture the steel components and assemblies needed for your equipment. Steel is one of the most used metals today, used in everything from construction materials to machinery.
Steel fabrication is a process that involves the transformation of raw steel into a product that can be used in your machinery or equipment. So just what do you need to know when looking for a contract manufacturer to partner with when your project involves steel fabrication for alternative energy?
Types of Steel Used in Fabrication:
As one of the most widely used fabrication materials, you may think all steel is the same. But that's not the case. There are many different steel types and alloys that each have unique properties that make them best suited for certain applications.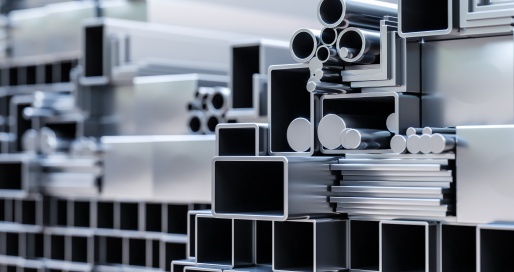 Here are some of the more common types of steel used in manufacturing:
Carbon steel: This is a metal alloy that contains both iron and carbon. Carbon steel is classified as low, medium, and high. Low means it has less carbon content – up to .3% — and is easy to cut and shape. Medium carbon steels have between .31% and .6% carbon .31% to 1.6% magnesium and are usually formed or shaped before being treated to make it harder. And high carbon steel has between .61% and 1.5% carbon and .31% and .9% magnesium and is the toughest and most durable of the options.
Stainless steel: Stainless steel is an alloy of iron and chromium. If you're planning to make a rust-free part or product, this material should be at the top of your list. It's also resistant to extreme temperatures so can withstand heat well. From a fabrication perspective, stainless steel is easy to work with whether you're cutting, stamping, or welding it. And for companies looking for a sustainable option, the material is 100% recyclable so it's an effective way to lessen your environmental impact. There is, however, a high initial cost when you choose stainless steel.
Alloy steel: Alloy steels are made by combining carbon steel with alloy elements added to give the material-specific properties, for example, resistance to extreme conditions of heat and/or corrosion such as a fuel cell enclosure with difficult environmental requirements. Some of the most common alloys include steel with cobalt, nickel, tungsten, and chromium, among others. While this offers seemingly limitless possibilities, they can also be more expensive to use.
Steel Fabrication Methods:
Depending on the complexity of your needs, you'll want to find a contract manufacturer for your machinery or equipment who offers a variety of steel fabrication methods for greater flexibility.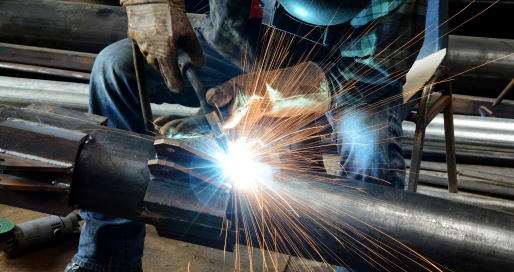 To break it down for you, steel can be fabricated using any of the following processes:
Bending or folding: If you need steel creased or bent at an angle, folding is the method generally used.
Cutting: Nowadays, beyond simple sawing, there's laser cutting, plasma arc cutting, and more.
Casting: Casting involves pouring molten steel into a mold or die.
Welding: Welding fuses two or more steel parts using heat, pressure, or both.
CNC machining: A CNC machine is a computer-controlled cutting tool used most often for extremely precise parts.
Punching: A punch press can be used to strike the steel to create holes.
Stamping: This process is like punching but it creates an indentation rather than a hole through the steel.
Choosing the right method for your project depends on understanding your product's intended purpose, the intricacies, and the materials you plan to use.
Experts in Steel Fabrication:
Just like the wide variety of steel fabrication methods available, you'll also see different experts employed in contract manufacturing shops. These can include:
Welders
Ironworkers
Blacksmiths
Boilermakers
Press machine setters and operators
When you're looking for an ideal steel fabrication partner, you'll want to check on the professionals they have on staff and their experience level. It can also be useful to understand their expertise working in your specific industry. So, for example, if you're producing wind or solar technology, you'll want to find a partner who is at the forefront of alternative energy manufacturing. You can browse through companies' websites to get a feel for their experience working in various industries. Also, look to see if they have any relevant customer success stories which can give you insight into the problems they have solved for their customers in the past.
Assembling Steel Parts:
Sometimes, steel fabrication requires assembling processes to complete your final part. Assembly can be done by some of the methods we already discuss, like welding, but there are other ways to join your steel pieces as well.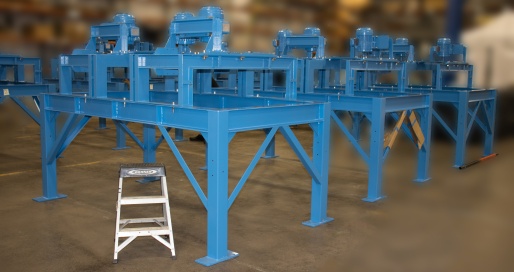 Some of the more common assembling services include:
Fasteners
Adhesives
Riveting
Bending
Depending on the method selected, assembling may be either automated or completed manually.
PEKO's CNC Machine Shop and Sheet Metal Fabrication Shop provide the ability to fabricate the precision steel parts necessary in today's high-tech alternative energy machinery and equipment. By amassing a collection of over 100 CNC machines, 400 talented manufacturing and engineering personnel, 375,000 square feet of manufacturing space across 9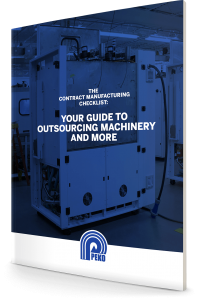 buildings, and over 55 years of experience, PEKO has become a go-to choice for outsourced steel fabricating services by many, including OEMs and manufacturers in the alternative energy industry.
"Working with technologically advanced companies has led PEKO into the alternative energy sector on many occasions," explained Scott Baxter, Marketing and Business Development Manager.
If you're looking for a custom contract manufacturer for your next alternative energy project, download our checklist to find the right partner.