Share article: FacebookLinkedinTwitter
Quick Tips for Machining Stainless Steel

Stainless Steel 304 and 316 are among the most common grades of stainless steel used in industry today.  Industries like Medical, Semiconductor and Food are demanding that today's suppliers are competent in machining this rigid material.  Both a science and an art, CNC machining of stainless steel can be a staple for any machine shop trying to survive in this competitive industry.  Companies like PEKO Precision Products have been machining this material for decades, so we know that dealing with SS is both an art and a science.  It is our experience that if you want to be proficient in Medical Device Contract Manufacturing, you must master the art of milling and turning Stainless Steel.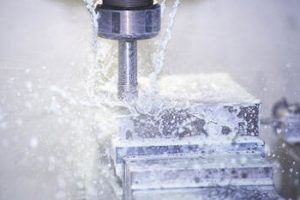 Here are some quick tips that all expert CNC Machine Shops utilize:
1. Rigid Machines and Tooling
Stainless Steel is an exceptionally hard material.  As such, it is important that the machine and tooling is of high quality and extremely robust and rigid.  Such a material can cause chatter in the machine and may be problematic for part machining.  This same methodology applies to workholding fixtures, as these are just as susceptible to failure due to vibration during the rigorous machining process.
2. Choose the right tool material
A few great choices exists for CNC Machining of stainless steel.  High Speed Steel (HSS) such as tungsten or molybdenum HSS.  These HSS  tool materials are used depending on hardness, abrasion resistance and strength.  Different grades can be used to optimize the process.  Tougher end mills can be used when edge chipping is a factor.
Cemented Carbines are another great choice.  Cemented Carbides are a great substitute for HSS when higher feeds or speeds are required.  Using a coated cemented carbide tool will help improve wear and reduce breakage.
3. Coolant choice
There's dozens if not hundreds of coolant manufacturers.   It is important to choose a reputable coolant manufacturer that understands the properties of your materials and how they will work in concert with their products.  Depending on your application, the type of coolant you choose will affect tool wear, feeds and speeds, chip removal, surface finish, heat removal and corrosion resistance.  The families of coolants are the emulsifieds, mineral oils and cold gas.   Make sure whoever is in charge of coolants is very familiar with each to ensure proper part manufacturing.  

CONCLUSION:
Whether you are choosing a contract manufacturer or doing in house machining of Stainless Steels, make sure to respect this special metal.  With so many factors that apply to Stainless Steel, the correct combination of  variables must be chosen to ensure perfect parts every time.  To get a quote from the experts in CNC Milling and Turning of your Stainless Steel parts, contact PEKO Precision Products.