As a Contract Manufacturer, we absolutely love the thrill of working with Startups, Scale-Ups, and New Product launch teams throughout the New Product Development Process (NPD).  Since our purview is in the context of machinery, equipment, hardware, and other types of instrumentation, we'll stay in our lane for this blog post.
Anyone knows when a new product is launched to the market that there are millions of obstacles to overcome including technical, commercial, and finance issues.  It really takes a special group of people to navigate a new program through the New Product Development Process.  Whether you're a small company with a huge growth on the horizon, or on the R&D team at a Fortune 500, we've seen all the challenges that hamper the product from ever reaching the market.  Let's dig into a few commonly overlooked issues we have seen here at PEKO, during this critical early-stage process.
1. Mismanaged Engineering Resources
Arguably, the most common issue with Startups is wasted engineering resources that should be focused on the product's core technology.  When an innovative technology emerges to change the world, only a limited number of engineers and subject matter experts prepare the product.  With all this chaos, people wear too many hats.  No one has time to take a quick inventory and ask themselves: "Why is my Mechanical Engineering team modeling brackets instead of the critical components that make the product function properly?  Why is our Chemistry Ph.D. fumbling through a Bill of Materials?  Why is my Software Developer calling plating manufacturers to procure zinc coating?"
Focus on your core technology with your subject matter experts.  While it may be difficult to do so in this process, it's critical for the technology's future.  Keep talented and expensive personnel on task, as best you can.
2. Lack of Manufacturing Infrastructure
If I've seen it once I've seen it a hundred times: the New Product Development Process begins as a sketch on a napkin but comes to life in a small space like a lab, office building, incubator, or shared space.  Usually, this is fine, but you must be wary of technical, logistical, and safety issues that might come as your product makes its way through to commercialization.  Make sure you have the following questions answered to be successful:
Do I need a loading dock?
What kind of electrical system does my building have?
What about ventilation?
Is my product liable to explode or start fire?

What is the plan of action if this happens?

What happens when I go from Prototype to Pilot build?
Will I have enough space to load, unload, build, store inventory and breathe?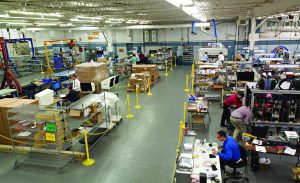 These facilities questions and more are great to consider in the new product development process because if you don't, you could regret not asking them later on.
3. IP Protection Plans
Do you have a plan to protect your intellectual property?  To you, and any vested stakeholders, this is the most valuable part of a new product.  The IP contains all the blood, sweat, and tears of your company, along with the potential future value you are ready to unlock.  Make sure you're working with a vendor network that complies with both your local and national laws.
Furthermore, make sure that when your suppliers don't base their service offerings on any ownership of your IP.  It is not uncommon for engineering servicing firms to draw your designs on their company border which can cause IP related issues down the road.  PEKO's advice?  Avoid companies that engage in this practice at all costs unless it's a part of your own business model.  Protect your future by protecting your IP.
4. Vendors with Short Range
Most NPD Companies or teams racing against the clock to check accounts.  The first few builds are cobbled together in-house utilizing the closest, fastest and cheapest vendors.  After all, these are just proof of concepts or prototypes, right?  The answer is no.  While this works in the short term, once you're in for the long term you're not setting your program up for a repeatable process.  The whole point of bringing a new product to market is to go big and make the ownership and investors very happy.  In that way, one of the most important parts of your early-stage process is to identify Full-Service Contract Manufacturing companies that can scale up quickly to meet forecasted demands.  By engaging a good contract manufacturer with a wide breadth of new product introduction expertise early on, you can hit the ground running during the earliest stages of commercialization.  Take advantage of engineering suggestions, material selection, capacity planning, and even design for manufacturability and assembly (DFMA).  If you plan to go big, set the foundation early in the process with partners that will grow with you.
---
All New Product Teams, CEOs founders, and investors aspire to bring their products to market quickly with the least amount of delays possible.  Most of these groups are aware of the common commercial and technical challenges faced during early-stage manufacturing.  By setting up a foundation early, and understanding these four overlooked issues, you'll save tons of time, trouble and money.  We've seen these issues countless times before here at PEKO and, unfortunately, by the time we find these issues it's too late in the process for a quick, stress-free fix.  If you're currently in this process good luck on your journey and remember to pay special care to the details.