Why should I choose machinery manufacturing in the USA instead of Europe or Asia? This is a question I often get asked.
The European and Asian markets do have some advantages, but depending on your machinery or business goals, you might find your compass pointing right to the US for your contract machinery manufacturing needs.
Today we'll look at some very important reasons why you should pursue machinery manufacturing in the USA, like IP protection, access to the US market, early-stage capabilities, and the strong infrastructure that comes with utilizing the US market for manufacturing.
---
1. Legal protection of intellectual property (IP)
For many companies, their IP is their entire business. Giving access to it from unsecured places could mean the absolute destruction of the entire company, and even someone's life work.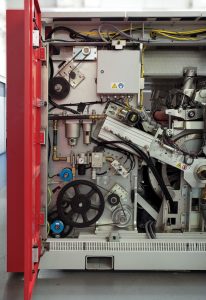 Many countries in Europe enjoy a strong IP protection legal structure. However, with Asia, we observe a veritable case study on how not to secure IP protection. An article by Science | Business cites "irreparable harm." Yikes. So, when it comes to proprietary technology, it's hard to find a country more dedicated to protecting intellectual property for machinery manufacturing than in the USA.
According to the Department of Commerce, "there are several types of intellectual property [in the USA], which include patents, trademarks, copyrights, and trade secrets. Patents allow their owner to determine who can make, use, or sell an invention. Trademarks allow their owner to communicate the source or origin of a product or service to consumers. Copyrights provide their owner with the ability to determine who can reproduce or distribute a work, publicly perform and display work, or prepare derivative works. Trade secrets protect confidential business information."
2. Better access to the US market and end-users
Machinery and equipment are large, heavy, and prone to damage on long trips. So, manufacturing close to the US end-users, like hospitals, labs, and industrial OEMs, helps to increase US market share by virtue of easy logistics. Furthermore, I've noticed that users have a more comfortable feeling knowing the equipment is made domestically by an American manufacturer.
Securing contract machinery manufacturing in the USA gives inherent access and cost advantage. We're seeing an increasing number of companies from overseas gain a physical presence in the US by opening a small office and choosing a contract machinery manufacturer in the USA.
3. Early-stage prototype and development capabilities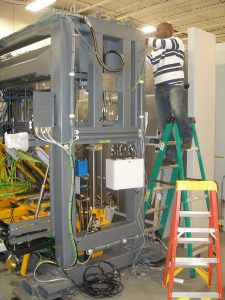 Bringing new machinery or hardware to market requires talented engineering personnel with quick feedback and communication abilities. The development process for new machinery is long and requires a closed-loop feedback system. By choosing a machinery manufacturer in the USA, a company can choose a manufacturer with complete "bring-to-market" development capabilities.
Especially if you're supplying to the US market, you'll want the product development team to be deeply entrenched in the US industrial world. They need to be well versed in the nuances of US customers, specifications, regulations, and suppliers.
4. Strong manufacturing and technology infrastructure
Fortunately, it is relatively easy to find contract machinery manufacturing in the US due to its strong infrastructure of manufacturing and technology centers. For machinery building proper, there are a plethora of manufacturers with capabilities to support the custom fabricated portion of the Bill of Materials.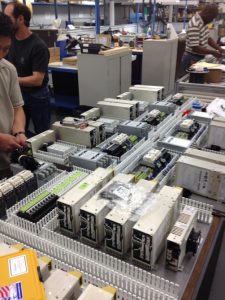 Custom frames, sheet metal components, CNC machined parts, plastic components, composites, and more all have local and regional suppliers that can manufacture parts for your build. And there are plenty of regional distributors and representatives at most machinery manufacturers in the USA that can help develop the supply chain for off-the-shelf components like motors, sensors, power supplies, and drives.
And lastly, for engineering and technology, there are engineering firms, universities and tech centers that have various specialties that can be called upon for special processes that are built into your equipment.
---
Machinery manufacturing in the USA has a long history of success and is still booming today. There are many reasons why you should pursue this path.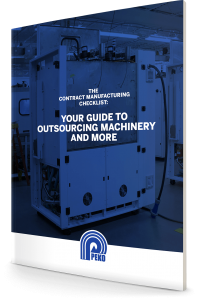 Once you've decided where you are going to pursue contract machinery manufacturing, the next step is to find a contract manufacturer for your product. PEKO is here to help you answer this question.
We've spoken with hundreds of industry professionals who have evaluated contract manufacturing for their machinery or equipment and have used this insight to compile a guide of common considerations when choosing a manufacturer for your product.