Share article: FacebookLinkedinTwitter
Do you have machinery or equipment that you need manufactured?  Or, maybe you have some major mechanical equipment that needs to be assembled.  Or maybe it's just the beginning of a break-through idea that you have, but you need some more help with the engineering & design.  Perhaps you just can't justify building a full-functioning factory.  Whatever the reason may be, if you're looking to outsource, knowing where to turn to may be overwhelming.  We're here to help.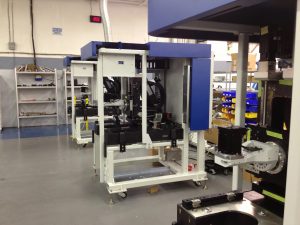 When it comes to Contract Manufacturing, you'll want a company that can help you, each and every step of the way.  Whether it's design engineering that still needs fine-tuning, or making sure that your design can be manufactured–and repeated–make sure you find a Contract Manufacturer with wide-ranging in-house capabilities.  At PEKO, we are proud to offer our preferred clients with an extensive list of in-house capabilities.  Not only does this set us apart from other Contract Manufacturing companies, it also allows us to provide our customer base with a Complete Solution for their manufacturing needs from start to finish.
If you're currently in the market for a Vertically Integrated Manufacturing Company, we recommend you take a tour of each company's facilities once you've narrowed down your selection.  Before touring the selected facilities, be sure to download our Free Contract Manufacturing Checklist for all the essential necessities you'll want to look out for.
Design Engineering into Production
A true Turnkey Production Company will help OEM's through every step of the development cycle, into the manufacturing and production curve.  A great Contract Manufacturer will have an experienced engineering department that is staffed with eager professionals who are fully prepared to assess your prints and BOMs.  This will confirm that everything in your design can be manufactured, easily.  Since a great CM will have an integrated approach, the engineering and manufacturing teams will work closely together until both teams are certain that your major mechanical assembly can be reproduced perfectly each and every time.

When new customers engage with PEKO, we typically walk them through the beginning stages of the development cycle, even if they have already built a prototype.  If you're  looking to outsource the assembly and manufacturing of your machinery, you'll want to look for a company that will take you through their development cycle–even if you've already built a prototype that works.  A Great Contract Manufacturer will understand the importance of:
vetting your technology before it hits the market,
confirming all print packages are ready for production, and
ensuring the proper action plans are in place once you're ready to "scale-up" production.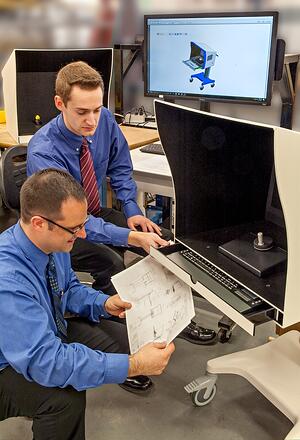 PEKO holds an extensive background in bringing machinery through the Development Cycle, so we guarantee a project's success in the production stage by rebuilding a prototype in our facilities.  During this process, our engineers work hard checking for clearly defined and labeled work instructions as well as guaranteeing that the machinery can be produced perfectly once it reaches our production team.
Equipment & Machinery RE-INVESTMENTS
Sometimes sub-assembly quantities may need to be "ramped-up," in a moment's notice.  A great contract manufacturer will be sure to have the proper plans in place to allocate resources once a sudden increase in demand takes place.  Apart from just your own equipment that is manufactured by the CM, you should be confident that the company is reinvesting in:
themselves
their own equipment, and
their employees.
At PEKO, we continue to invest in new equipment and machinery.  Check out our latest additions in Machinery Announcement blogs.
A CM that adapts to the constant changes within the industry should give OEMs the peace of mind knowing that their product will continue to be produced as efficiently as possible with up-to-date equipment.  Company-wide efforts should be made to execute continuous improvements  which will ultimately increase both profitability and marketability for their customers.  If you're looking to outsource to a Contract Manufacturer, check to make sure the company is incorporating lean practices, six sigma, TOC and other methods to maintain your sustained value.
In-House Capabilities
A true High-End Contract Manufacturing organization will have a Vertically Integrated Business Model, which sets the organization apart from lower-end contract assemblers.  If you're looking to outsource, be sure to pick a company that has the capability to manufacture at least 50% of your major mechanical assembly, in-house.  As an OEM, don't let a CM that relies on heavily on outside vendors impact your strict deadlines.  The more a CM can do under their own roof, the more control they have on meeting the deadlines you both agreed upon.
For example:  At PEKO, we stand by our abilities to do the following in-house: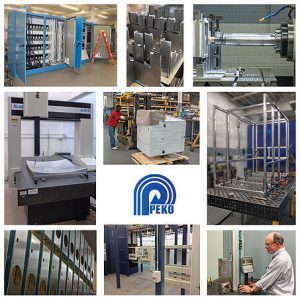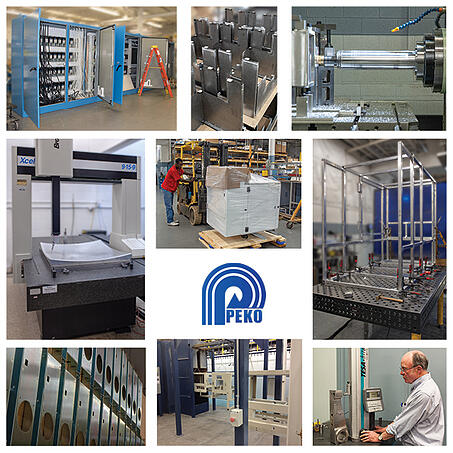 CNC Machined Precision Parts
Milling
Turning
Design & Reverse Engineering
Sheet Metal Fabrication
Welded Frames
Powder Coating
Electrical Wiring
Assembly & Testing
Clean Room Assembly
Inspection & Quality Control
Procurement
Apart from executing strict deadlines, the more a CM can do in-house, the more confidence you can have in your data protection.  If you have "break-through" technology, then you'll need the reassurance of IP protections.  The fewer outside vendors a CM works with means that there are far less companies viewing sensitive information that is vital to an OEM's core business.  If you're lucky enough to come across a company that works in the defense or other highly regulated industries, like PEKO, then you can rest assured that the company already has strict guidelines in place to ensure data protection for its defense customers.
Conclusion
Not all companies use the title "Contract Manufacturer" in the same way.  If you're looking for a true Vertically Integrated Manufacturing company, that provides full End-to-End Solutions, make sure you properly vet out your selection.  Then, take a tour once you've slimmed down your list to figure out which company will be the best fit for your needs.  While there may be plenty of disadvantages with offshoring, manufacturing is currently booming in the USA for companies looking to outsource.
If you're interested in utilizing all of the fantastic capabilities PEKO has to offer, request a quote to speak with one of our engineers, today!