The capabilities typically needed for the manufacturing of machinery, equipment, instruments, and other major mechanical assemblies include a good amount of metal fabrication. So, if you're looking for a contract manufacturer to manage your machinery or equipment in its entirety, you're going to want to find a company that has extensive in-house fabrication capabilities.
In-House Fabrication Processes
1. Component Fabrication
If you're looking to outsource the manufacturing of a brand-new machine you recently designed, you'll want to find a fabrication company that excels with component fabrication.
What's the big deal about in-house component fabrication anyways?

Well, a company that has in-house component fabrication benefits the customer because it allows the manufacturer to have complete control over cost, quality and lead time for parts that are needed on the assembly line.
If a problem or delay were to arise due to an outside vendor, the contract manufacturers' hands would be tied in managing complications outside of their own facility. Rather than leaning on outside suppliers, the contract manufacturer is able to monitor and manage each process as it moves through their facility.
2. Precision CNC Machining
If you have a piece of equipment that needs machined parts for the assembly, why would you choose to go with a company that doesn't have CNC machining capabilities in-house? This can leave you vulnerable because you aren't able to rely on the contract manufacturer actually overseeing major portions of your machinery's manufacturing.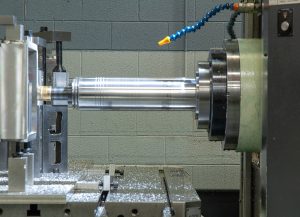 Problems can arise while parts are being machined which is why CNC machining is such a critical in-house fabrication process. This, coupled with a comprehensive quality system, helps eliminate the risk of rejected parts when they are needed on the assembly line to meet set deadlines.
PEKO has an extensive quality system in place to check parts at multiple stages throughout their processes.
3. Sheet Metal Fabrication
Just like CNC machining, most machinery and equipment manufactured by contract manufacturers also require a robust sheet metal fabrication division. This is why in-house fabrication of sheet metal is important in order to maintain rigorous management over a customer's project.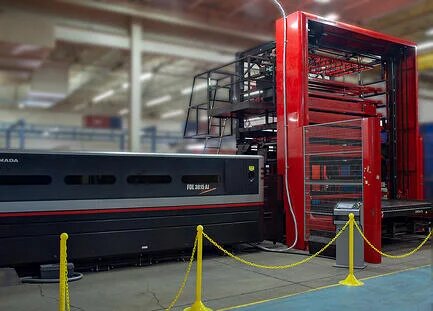 The contract manufacturer should show that they are constantly reinvesting in their fabrication facilities with new technology and machines.
For example, PEKO recently added a 4000w fiber laser with a stacker to improve our sheet metal efficiencies while also automating some of the processes with loading and unloading the machine. By incorporating new machinery into our sheet metal division, we have significantly reduced lead time for our assembly lines which allows us to closely manage the flow of materials through each process.
4. Welding Fabrication
Another important in-house fabrication capability to have is welding.

If you're in need of frames, cabinets, or enclosures, you ought to look for a company with a robust welding department with certified welders.
PEKO's welding department consists of ample equipment and the right material handling capabilities which are critical for this type of manufacturing. Our extensive quality department also oversees our welding department to ensure all parts for an assembly are thoroughly inspected to ensure the up-most quality for our customers.
5. Metal Finishing (Wet Paint & Powder Coating)
If a company can see room to improve and implement improved practices, that means that they are dedicated to efficient manufacturing for its customers and end-users.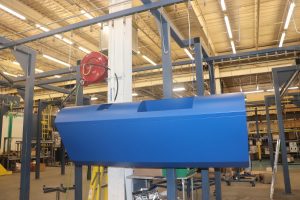 At PEKO, we saw a gap in our ability to manage powder coating. We were relying on outside vendors who were having trouble meeting our deadlines, and this was causing our overall deliveries to suffer.
This led us to incorporate a powder-coat paint line and wet-paint booths into our operation. Adding this as an in-house capability has truly allowed us to have complete control over the management of our customers' projects.
---
Metal fabrication is a HUGE part of machinery and equipment manufacturing.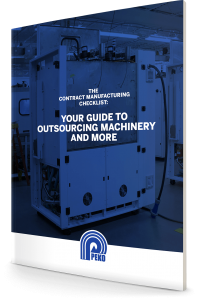 So when a company takes the time and extra resources to invest in its in-house fabrication capabilities, it's a clear sign that you will be in good hands to outsource your manufacturing with them.
If you're interested in outsourcing your manufacturing and would like guidance in your search for a contract manufacturer, download our checklist on what to look for in a qualified contract manufacturer.
For more information on how PEKO can help drive your success in the marketplace, request a quote.