What is Metal Fabrication?
Metal fabrication is integral to manufacturing as it is how your prototype or production line is brought to fruition. But who handles it and what's involved? In many cases, you'll need to find a fab shop, especially when you don't have the capabilities in-house and want to outsource the services.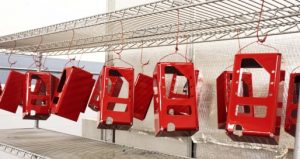 What is a Metal Fabrication Shop?
A metal fabrication shop, sometimes referred to as a fab shop or job shop, will, depending on its size and scope, take your project idea, create, and execute plans to produce a prototype, and if desired, complete the production project. The role of a fab shop involves everything from securing the raw material needed to getting quality parts out the door to you as at your desired schedule.
Fabrication shops often utilize several specialized types of machines to manufacture your project. Some of the more common ones are:
Laser cutting machines

employ the use of a focused laser beam on metal materials to execute precision cutting.

CNC (computer numerical control) milling

uses computerized controls and rotating cutting tools to quickly and consistently produce your metal part.

Punch presses

are used to cut holes in metal materials or, in some cases, form or shape metals.

Press brakes

describe a piece of equipment that performs more like a folding machine, used to bend simple or complex metal parts.

Welding cells

– whether manual or robotic, welding molecularly joins two pieces of metal together by using heat at high enough temperatures to melt the base metal(s) before allowing the fused materials to cool as a single piece.

Grinders

housed at grinding stations are usually where parts are finished by removing rough edges, deburring metal parts, and smoothing welds.
As parts flow between different machines on the shop floor, there's skilled staff involved who have the needed expertise to make sure the various jobs get done right, including:
Production manager

Laser cutting machine operator

Estimator

Lead fabricator

Equipment programmer
Both staff and machines work together in concert to make your part, taking the majority of the work off your hands.
What Services Do Fabrication Shops Offer?

When it comes to making your part, fab shops may have a variety of services that typically increase in breadth the larger the size of the shop. So, while cutting, forming, and machining may be standard across the board, others may offer additional capabilities. 
For example, some fabrication shops have a prototyping department that allows you to quickly get a working model of your idea to test its feasibility and work out the kinks before you move to mass production. 
Whether you need a prototype or not, your part may need additional steps, like powder coating. In these cases, you'll want to find out if the shop has all the metal fabrication processes you need in-house. For most startups and small businesses, it's easiest to work with a one-stop shop.
How Much Do Metal Fabrication Shops Cost?

If you haven't worked with a metal fabrication shop before, you may not know what to expect when it comes to cost. Each fab shop will have different pricing but generally, any estimate will factor in the following:
Metal material costs: Both the metals you decide to use in the project and their respective grades will impact the cost of your project. Your fab shop should be able to help you research raw materials and make recommendations that can help you save while not compromising the quality of the finished product. Size, material type, availability, and markup will all impact your material pricing.
Engineering hours, if needed: Your fab shop can help you identify the best way to build a project and provide a range of design assistance that will make your metal part or product even better, like 3D renderings. These services are generally priced separately and, in the USA, can range from $50/hr. to $200/hr.  Some companies will build this into their overhead, while others may be a la carte.
Labor: This line item considers employee wages and direct costs for making your metal part and will typically be presented at an hourly rate. For example, welding services may cost between $65 and $125 an hour.
Overhead: Overhead includes indirect costs like supplies, utilities, building costs, and other process costs that are built into every quote.
Make sure you ask for a detailed quote that breaks down all the costs so you can compare the figures among the metal fabrication shops you're considering. 
How Do I Find the Right Metal Fabrication Shop?
There are several important considerations when selecting a metal fabrication shop:
Service: Your team at a metal fabrication shop should work as your partner and provide high levels of service throughout the entire process. At the start, that means a quick response on quotes and, once you engage, a fast turnaround that meets your timeline. Many use lean manufacturing principles to maintain optimal performance levels. Live customer service and complete transparency are other important characteristics of a fabrication shop that can help ensure a successful part.
Area of Specialty:

Some metal fabrication shops offer standard services that are suitable for a wide variety of industries and projects. However, in some cases, you may want a shop that just focuses on a specialty, like medical or defense. So be sure to ask about the work they're capable of performing.

Experience: An

 experienced, reputable partner will help ensure your project goes smoothly. As you talk with metal fabrication shops, ask for examples of their work (like photos and schematics) and ask if you can talk to past clients. You may even want to look online for testimonials or reviews.

Industry Standards: When it comes to fabrication shops, you'll want to find one that meets industry standards and best practices. This is important not only in terms of safety but quality as well, which is why you should look for compliance with the International Organization for Standardization (ISO).
"Our quality system at PEKO focuses on the interests of customers while developing innovative and progressive techniques to product products that exceed expectations," said PEKO's Quality Manager Jeremy Turcott.
Looking for a fabrication shop for your project? Download our guide to find the right metal fabrication partner.