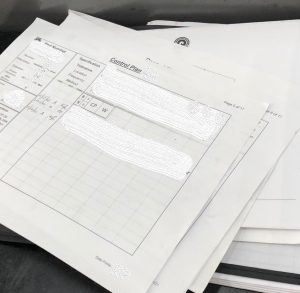 A Manufacturing Control Plan is an instruction on what product characteristics need to be monitored, how to monitor them, and at what frequency they need to be monitored.
It is an effective tool to communicate to the manufacturing group what potential risks were identified during the initial process planning stages and provides them with detailed instructions on how to monitor those risks and discover or prevent a failure before the entire lot is impacted.  
PEKO provides a manufacturing control plan for each part that runs through our CNC Machining and Sheet Metal Fabrication shops. This level of quality control helps ensure the highest quality integration when in both our machinery manufacturing and precision assemblies business units.
What's information is included in the manufacturing control plan?
What characteristics need to be monitored.
The frequency at which they need to be monitored.
The necessary equipment to monitor the characteristics.
The acceptance criteria for each characteristic.
How do they benefit the customer?
PEKO's quality engineers are responsible for creating the control plan with input from all relevant functions. It provides a great opportunity to prevent and discover quality defects before the entire lot is produced, essentially preventing material loss.
Finding or preventing defects before they occur reduces our scrap rate that could potentially affect the price to the customer. The activities described in the plan can also prevent lost time and late deliveries due to the impact of product defects.
---
PEKO prides itself on having a robust quality department and making machinery and equipment products that are repeatably built at scale. Creating high-level controls plans is just a piece of what makes us a world-class manufacturer.  To talk more, please request a quote below.  
---
Case Studies