Share article: FacebookLinkedinTwitter
You've done it!  You've created a new technology that will disrupt its industry once it hits the market.  But there are a few minor setbacks: since you've just successfully pieced your technology together you know that you'll have to get in front of a Contract Manufacturer in order to make the hundreds, or even thousands, that you plan on hitting the market with.  But just how much design engineering will you need from your future CM once you find one?
Design Assistance
The amount of design assistance at the New Product Introduction (NPI) phase you will need from your Contract Manufacturer will depend on a few variables.  Here at PEKO, the amount of time our engineers put into a design is always fluctuating from project to project.  If a customer comes to us with just a concept, then we're fully prepared to take over the machine's design.  But if they come to us with a machine that they've pieced together using local fab shops?  Then there's still quite a bit of design engineering to do.  You may need assistance in fit, form function of parts.  Functionality and features may need tweaking to properly reflect usage.  CAD models may even need cleanup.  From PFMEA, DFMA, and other critical mechanical and controls engineers are all part of the game at this early stage of manufacturing.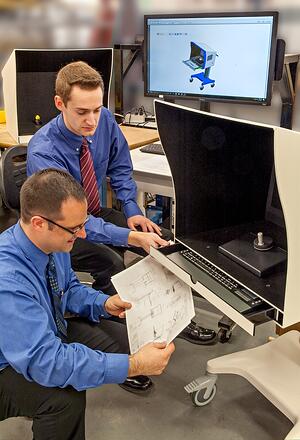 A great Contract Manufacturer should work with you as they vet your technology and figure out exactly to what degree it works.  Let's say you have a medical device that can scan a person's body for abnormalities.  Does the technology work better in a different position?  Does it matter where the scanner is on the device?  Or, does it make a difference if the device is firmly pressed on the skin or held further away?  These are all instances that a great Contract Manufacturer will take into consideration once you embark on your journey with them.
Prototype Builds
Whether you have a machine that's been pieced together using a few local fab shops, or your company has been able to build at least a few machines, your Contract Manufacturer should still work with you on building a prototype in their facility prior to sending your project through the assembly process.  This is a standard practice for us at PEKO.  This is so we can not only verify the technology and science of the mechanical assembly, but so we can make sure that the design will be repeatable.
The method it takes to build one machine is vastly different from the method it takes to build tens, or hundreds, or even thousands.  Depending on what your goals are as a customer, a true Contract Manufacturer will work with you to place a proper plan that will ensure your goals are met.  In this process, engineers should be working on perfecting your manufacturing packages which will eventually be sent off to assembly.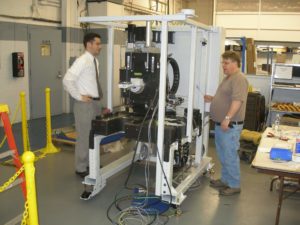 Here at PEKO, our engineers work in tandem with our assembly department which guarantees a smooth and seamless process during a project's transition.
How much design engineering can you expect to have from your Contract Manufacturer?  It all depends on where you are today and where you see yourself going with your product.  The best CM's out there know that most projects will involve some pieces of design engineering at the least to prove that the project will be successful once in full swing assembly.
If you're interested in learning more about our what to look for in a Contract Manufacturer, check out our free checklist to help in your decision process!