Share article: FacebookLinkedinTwitter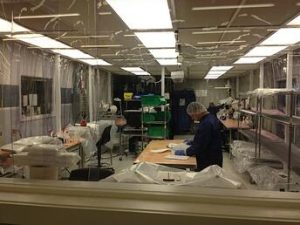 The advantage of being a World Class Contract Manufacturer is the depth of experience across highly complex industries.  Currently, the semiconductor equipment manufacturing industry is one of the most high tech and complex of all.  Some of the machines designed and manufactured by such companies are thought to be the most complex pieces of machinery in the history of mankind.  As we all know, California is a hub for this type of equipment.  And When things are cranking in the semiconductor industry at the same time as other industries like Defense and Aerospace, the local CNC machine shops can get overloaded quickly. Not to mention CNC machining of large parts, which are even harder to find in the California region.  Similarly, the assembly shops can feel the same struggle, although there are less of these folks.  With all these factors in play, companies like PEKO have found a good market in supporting the Semiconductor OEMs in California.
Supporting the Semi industry requires a few very important aspects.  First of all, this is a high complexity, low volume industry.  The suppliers that have quick setup times and depth capabilities are best suited.  Typically, they have a strong engineering infrastructure to support the demands of these types of parts.  When CNC Machining and Assembly is required for such low volumes, it takes a very clever team of experienced folks with the right machinery to meet all the requirements.  There are companies outside of CA that are set up for exactly this kind of work.  They have good teams that have been manufacturing for a long time.  Typically, they are located in cost centers that don't carry the same burden as the CA shops.  This can be a huge advantage for OEMs looking to outsource their CNC Machining and Ass'y but keep it in the USA.
Cleaning capabilities are another concern when dealing with Semiconductor products.  In many cases, the parts are spec'd to be cleaned to a certain grade.  This might mean ultrasonic cleaning, blacklight inspection and the like.  These additional services can be found in house in many suppliers across the USA.  Companies like PEKO have been doing this type of cleaning and inspection for many years.  Furthermore, many of these products require a clean room to be used for assembly.  The best suppliers will have inhouse cleanroom with UV and bright light inspection for inspecting for particle contamination. Upgraded & installing a new sweep frequency ultrasonics cleaning unit can also be a huge asset. In house supply of monitored high purity/resistivity RO water is great for in house cleaning.
California Semicon Machinery OEMs will do well to look around the US for great CNC Machining and Assembly suppliers for their parts.  They are great alternatives when the local shops fill up, don't have the capabilities or are just plain too expensive.  For CNC Machining and Assembly options from a company that has experience in the Semicon industry and with California OEMs, shoot me an email at sbaxter@pekoprecision.com or click below for more info.