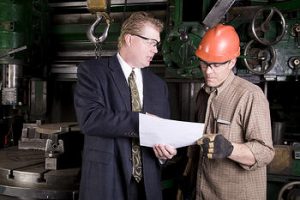 Contract Manufacturing is the manufacturing industry's way to describe the outsourcing of various levels of a manufacturing process. We've seen it describe outsourced CNC machining, turning, plastic components, paint, special processes, welding, and more.
Too many times, a job or account is rushed to the floor and becomes the responsibility of a shop manager, machine operator, or even the company president to ensure price, quality, and delivery are met.
No matter what kind of contract manufacturing you need to engage, a contract manufacturer that offers program management will help simplify the entire transition. Program managers are typically a skilled employee that will serve to tie the customer and the contract manufacturer. When companies use project managers, the customer will immediately see these benefits.
1. Designated Point of Contact between Customer and Contract Manufacturers
Too many times, when engaging with a contract manufacturer, there is no designated Point of Contact for a customer to call when questions need answering.  There might be a Quality question, or delivery schedule change, and the poor receptionist doesn't know to whom to direct the call.  A Program Manager (PM) is designated so that all questions and concerns can be directed to him/her. This eliminates confusion and errors, along with not having to send an email with CC to 12 people within the organization.
2. Program Manager will understand your product and create a plan of success
A good PM understands that he/she is controlling a critical series of operations in your manufacturing process.  As such a PM is trained to be an extension of your very own manufacturing sequence.  The PM will work with the customer to understand exactly what they are trying to achieve.  A Plan can be put together that utilizes his/her personnel and machinery resources to optimize the process for the customer goals.  Once the resources and plans are in place, the Program Manager and team will efficiently and effectively work in harmony to achieve the defined success.
3. Program Managers become customer experts
Program Managers not only understand their own capabilities but also understand the customer requirements.  For many industries, products contained intricate specifications that must be followed to the letter.  An experienced Program Manager will be able to interpret these specs and ensure they are followed throughout the manufacturing processes.  Furthermore, PMs will document and detail the processes to ensure repeatability and accuracy in the future.
Program Management is a critical aspect that Contract Manufacturing Companies must embrace for a successful partnership with their companies.  By utilizing a program Manufacturers, the relationship can become defined and structured.  A designated Point of Contact that can become a Product Expert for the customer is a powerful resource that smart companies all over the world are utilizing.  PEKO has been successfully using program managers in all of our Contract Manufacturing Programs with great success for decades.  Click below to find out more.