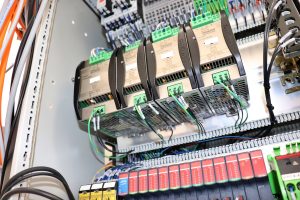 When it comes to industrial equipment manufacturing, efficiency is key. Industrial power supplies play a crucial role in industrial application, and their reliability is essential to the overall function of the system.
Unfortunately, power supplies can often be overlooked, resulting in decreased reliability and performance. That's why it's important to research the latest products and technologies when it comes to finding a reliable industrial power supply manufacturer.
Industrial power supply manufacturers are always looking to improve efficiency in design, performance, and manufacturability. The latest products they've released include a variety of new features that make them more efficient than ever before.
In this blog post, I will highlight three new and notable products from top industrial power supply manufacturers that were recently featured in Machine Design magazine.
What Are Industrial Power Supplies?
A power supply is a device that provides electrical power to a circuit, or in some cases, provides power to different loads. Industrial power supplies are among the most used types of power supplies. They are used to power machinery by converting high voltage, low amp inputs into low voltage, high amp outputs and are rated by the number of amps they convert on an output basis at their respective voltages.
Types of Industrial Power Supplies
Industrial power supplies are typically manufactured in three standard styles: unregulated, switching, and regulated (or "constant").
Unregulated power supplies provide DC voltage to a circuit where no regulation is needed or desired. This type of power supply is the cheapest, but it's not very efficient, especially when running motors and the like. It's also not particularly good for powering DC devices, especially with voltage drops and noise problems.
Switching power supplies use a transistor switch to regulate current flow through an inductive load (like a motor). This type of power supply is inherently more efficient than either of the other styles – but they are expensive to manufacture and require sophisticated control circuits to keep them from overheating or failing in some manner when supplying variable loads.
Finally, there is a regulated power supply that has an output that remains relatively constant over a range of load conditions and input voltage changes within certain limits or boundaries.
New & Notable Industrial Power Supplies
1. ECO 2 Power Supply Unit by WACO
Recently, WAGO released their ECO 2 compact power supply unit. This industrial power supply model can be a great solution for saving space and improving reliability in your industrial application.
"The ECO 2 power supplies maximize space in the control cabinet while providing an efficiency rating up to 90%." – Machine Design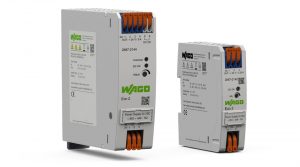 If that's true, sign me up. Smaller components mean shrinking the size of control cabinets and electrical enclosures and added cost-saving bonuses.
Unfortunately, after checking WAGO's website, I didn't see any ECO 2 variations with greater than 40A outputs.
So, before you think you've found the holy grail when sourcing from an industrial power supply manufacturer, you'll have to ensure your application's requirements are in line with the brand's offerings.
2. SPMA Series Power Supply by CARLO GAVAZZI
While we're on the topic of compact power supplies, I'd be remiss not to mention CARLO GAVAZZI's new SPMA switch mode power supply series.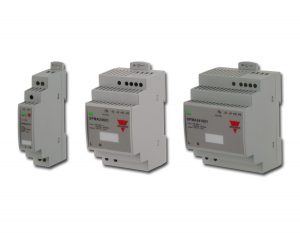 The SPMA Series is a compact, low-profile DIN mount solution designed for industrial and building automation. With integrated diagnostics as well as protection features, these products are ideal for demanding applications that require performance with consistently high efficiency.
I pondered whether these would be good for the growing renewable energy equipment market as I read some product datasheets and worked on writing this article—specifically for electric vehicle charging stations. I realized the folks at CARLO GAVAZZI were quite a few steps ahead of me when I discovered an application note on exactly that topic.
Be on the lookout for this promising power supply technology in some up-and-coming new products.
3. DRM40 Power Supply Redundancy Modules by TDK-Lambda
When power supplies are overloaded, it can lead to decreased system reliability. This is a major problem for engineers who are trying to design reliable systems.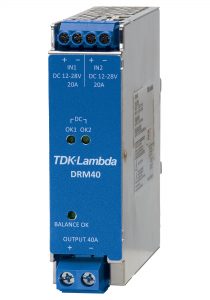 Luckily, TDK-Lamda's new DRM40 series DIN rail-mount power redundancy modules answer this problem by creating a parallel power supply that provides more power and safety.
Designed for automation and general-purpose industrial applications, the DRM40 power modules are equipped with unique features to handle overloaded power supplies.
It is designed with built-in redundancy, so if one power supply fails, there is another one that can take its place. It is also designed to operate at lower power levels, which helps to reduce the risk of failure and improve reliability.
If you're facing an issue with overloaded power supplies, I advise you to check out this article about using parallel power supplies in your application. The article goes into great depth about parallel power supplies that are beyond the reach of this blog. Give it a read and you might find this technique to benefit your application.
---
To ensure that industrial power supplies are as efficient as possible, research the latest products and technologies. These three products represent the latest advances in industrial power supply technology and are sure to provide reliable power for your industrial needs.
I have gained a unique perspective on what's happening in the manufacturing industry during my time working at PEKO, a machinery and equipment manufacturer, and while serving on the Machine Design Editorial Advisory Board. And leaning on the knowledge and expertise of the staff at Machine Design has been a winning strategy for me and thousands of other designers all over the world.
Thanks for reading and be on the lookout for more articles about this topic. Check out our machinery manufacturing capabilities for more information about how PEKO provides industrial power supply integration for our customers' machinery and equipment.