Optimize Your Sheet Metal Design with PEKO
Looking for an expert to review your sheet metal design for manufacturing and cost optimization?
Designing with sheet metal is no easy task. Partnering with PEKO means you don't have to settle for subpar fabrication engineering. We serve as an experienced extension of your own engineering team to help you improve upon existing designs and solve complex manufacturing challenges.
Fabrication Engineering & DFM Assistance
We have knowledgeable sheet metal engineering staff on-site who are readily available to provide insight into your manufacturability. Our experts leverage years of experience to review your sheet metal design for manufacturing and pinpoint opportunities for increased efficiency, reduced manufacturing cost, and improved quality in part fabrication.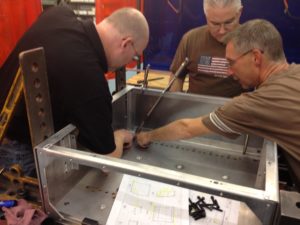 We offer suggestions like opening tolerances, changing radiuses, using different materials, employing different techniques, adding hems for stability, and more.
Once we update your design to optimize its shape, size, intricacy, and materials for the most cost-effective manufacturing possible, we then begin to transfer your design for processing in our on-site precision sheet metal fabrication division.
---
Get in Touch With The Experts
We understand how important it is for your products to be error-free while still meeting all requirements at the lowest possible costs. Let us guide you through the manufacturing process with our sheet metal fabrication engineering expertise – from designing complex shapes to creating intricate details in a cost-efficient manner. Contact PEKO today—let us make manufacturability easy!