Share article: FacebookLinkedinTwitter
Product Type: Welding Equipment
Manufacturer: BLUCO Corporation
Model: D28 System
Where to buy: CONTACT BLUCO
Product Rating:   4.5/5 stars
Price Rating: 3/5 stars
Introduction: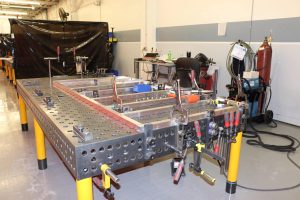 If you're looking for a fast and easy way to setup weld fixtures and are tired of buying or making customer tooling, BLUCO Corporation has the answer.  For almost 30 years, this high-end company has been producing industry leading modular fixturing and tooling.   BLUCO's trusted experience and engineering is evident across all product lines.  This article will discuss our experience with the D28 System.  PEKO has a small fleet of these welding tables and a talented crew of welders that use them daily.  Our experience revolves mostly around high mix, low volume welding.   A perfect marriage for these tables.   BLUCO prides itself on providing high-quality products and excellent applications experience, and we agree! 
How did PEKO come about using this product?
Almost 10 years ago, our welding and fabrication team needed a solution for quick weld set-ups without having to create custom fixturing for the high mix of jobs that we produce.  By speaking with industry professionals and other research, we demo'd a similar but lower quality system for six months.  After proving the concept of modular fixtures and getting buy-in from operators and management, the team contacted BLUCO.  Ultimately, we purchased BLUCO tables, as they were the most prominent and trustworthy brand on the market.
What are some benefits we have seen?
Faster and cheaper set ups
Easy to procure
High quality
Long lasting (we've had tables for over 10 years)
Full line of tooling and fixturing accessories
Unlimited configurations
BLUCO application engineering and customer service
What are some shortfalls of this equipment?
Expensive
Learning curve for first time setup (choosing the right tooling, configuration takes time)
Price vs value
Without a doubt, the BLUCO table is pricier than some of the other modular tables in the field.  That said, BLUCO certainly provides a high quality product from an experienced  manufacturer that is very long lasting and proven.   Each individual buyer for this product will have different requirements, so your needs may vary when it comes to buying a premium product like the BLUCO systems.
How WELL does it work and how was the usability?
As advertised!  We absolutely stand by the usability of the product  We've seen precision as good as 0.005″ (as advertised) but we err on the side of caution and assume a 0.010″ precision for most jobs.  The tooling fits right and the options are infinite.  This can lead to some learning curve, but that's a reflection of modular tooling, not BLUCO D28 System.
What were some alternatives we could have pursued?
At this point the alternatives in the marketplace are other modular bands without the long history of BLUCO, and good old fashioned custom tooling.
Conclusion
Overall, we really like the BLUCO D28 system.  It meets performance expectations, customer service has been very good and the product has stood the test of time.  We had to give it 4.5 stars for its product rating, but only 3 for price, as these tables are in a premium price range.  BLUCO is facing a lot of hungry competitors that are making a name for themselves. Overall, if it fits your project and your budget, you can't go wrong with choosing a BLUCO D28 welding table and accessories.