ROCHESTER, NY (September 8, 2021) – PEKO Precision Products, a leading contract manufacturer of machinery, equipment, and complex electro-mechanical assemblies, announces plans to exhibit at the Massachusetts Manufacturing Mash-Up, an exciting new conference hosted by The Center for Advanced Manufacturing, along with MassMEP, MassRobotics, FORGE, WPI, and MassHire.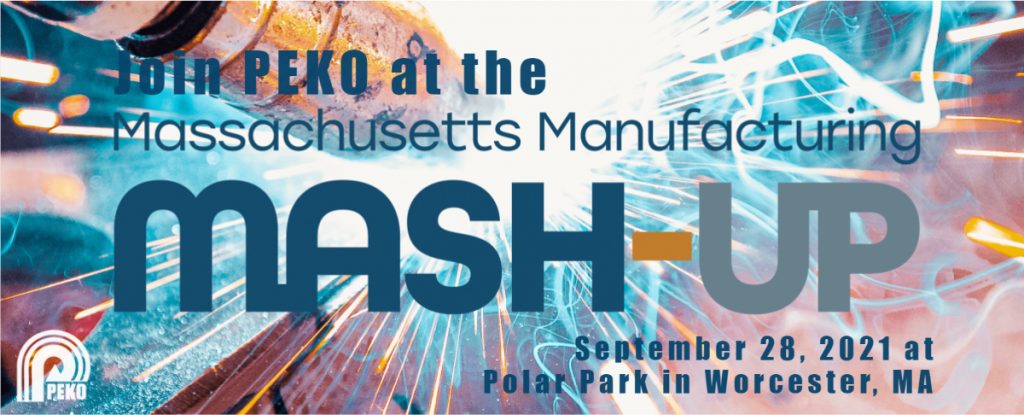 The Massachusetts Manufacturing Mash-Up will be held at 100 Madison Street, Worcester, MA 01608, on September 28, 2021, from 9am to 5pm. This new conference is meant to set the stage for a new 'vibe' for manufacturing. At this event, you will have the chance to discover new opportunities, meet partners, find resources, and network with people that can help your business become more successful.
PEKO will participate in this event alongside one of its long-time partners, FORGE, a nonprofit that aims to help startup companies making physical products navigate the journey from prototype to impact by providing access to needed resources.
Join us on September 28 for the opportunity to meet up with Scott Baxter, PEKO's Sales and Marketing Manager, and Bill Melvin, a long-time PEKO sales representative, to discuss your next design, engineering, or manufacturing project and discover how PEKO can answer to the needs and challenges of your startup or company.
Register for the event today, or visit MAManufacturing.com/Mash-Up to learn more about the Massachusetts Manufacturing Mash-Up.
Download PDF: PEKO to Exhibit at Massachusetts Manufacturing Mash-Up
Share the news: FacebookLinkedinTwitter